Children's Picture Books
Board book · 29 Sep 1994 · €9.95

Suitable for children, this title covers colourful collage illustrations and its deceptively simply, hopeful story. It features die-cut pages and finger-sized holes to explore.
Board book · 07 Feb 2011 · €8.50

Nothing is sweeter, as everyone knows, than tiny baby fingers and chubby baby toes! All over the world, babies are different. Yet in some ways they are very much the same: each one has ten little fingers and ten little toes - to play with, to tickle, to wave. And each child is very, very special to its parents...
Paperback · 02 Jan 2014 · €9.95
Our Price: €6.99

Happy Birthday, Gruffalo!
Paperback · 14 Aug 2008 · €9.99
Board book · 02 Jan 2014 · €8.50

We're going on a bear hunt. We're going to catch a big one. Will you come too? This title lets you follow and join in the family's excitement as they wade through the grass, splash through the river and squelch through the mud in search of a bear.
Paperback · 05 Jun 2014 · €9.95
Our Price: €7.99

Snow White has fled from the palace and the wicked queen is on her trail. With the help of seven musical dwarves, a magic mirror and a dashing doctor prince, can Kittie Lacey save the day?
Board book · 01 Mar 2011 · €9.95

With 5 touch and feel surprises, this title lets you lift the flaps to reveal your baby's favourite farm animals popping out from the pages. It is suitable for reading aloud and encouraging early word recognition, as well as for developing imagination, early-thinking and memory skills.
Paperback · 02 May 2006 · €9.95

From the rising star of children's picture books comes the magical tale of friendship and loneliness, a boy and a penguin.
Paperback · 06 Feb 2006 · €9.95

This classic story of Sophie and her extraordinary tea-time guest has been loved by millions of children since it was first published over 30 years ago. Now a new generation will enjoy this beautiful reformatted edition!
Paperback · 03 May 2005 · €9.95

An inspirational story of a boy who loved the stars so much, he decided to catch one of his very own. The beautifully illustrated, original debut picture book from shining talent Oliver Jeffers.
Board book · 06 Aug 2009 · €7.15

A collection of six chunky mini books, based on your favourite characters from "Peppa Pig". Presented in a beautiful slipcase box, it is suitable for pre-school children. It encourages children to start to read by themselves.
Board book · 01 Jul 2014 · €9.95

Features big, bold pop-ups and bright colourful pictures that delight your little one. This book is suitable for reading aloud and encouraging early word recognition.
Board book · 02 Jul 2010 · €9.95

A new edition of Rod Campbell's classic lift-the-flap book.
Paperback · 08 May 2014 · €4.25

Little Miss Hug is an expert hugger. More than anything else, she loves to hug her friends and make them feel better. And there are times when she hugs just for the fun of it. After all, everyone needs a hug, don't they?
Paperback · 22 Jul 2014 · €11.35

Follow a girl on an elaborate flight of fancy in a wondrously illustrated, wordless picture book about self-determination - and unexpected friendship.
Paperback · 01 Jun 2010 · €9.95
Paperback · 05 Jun 2014 · €9.95

The pigeon is BACK! And he STINKS! No, really, he actually smells very bad...
Paperback · 11 Feb 2013 · €9.95

It's hard work being good all the time. And it's especially hard for a dog like George!
Mixed media product · 05 Jun 2014 · €11.35
Our Price: €8.99

The wiggly, squiggly superhero is now available with a high-quality audio CD, brilliantly performed by award-winning actress, Imelda Staunton. The CD contains: the full story with music, the Superworm Listening Game and the brand new "Superworm" song, which was written specially for this CD by Julia Donaldson.
Mixed media product · 01 May 2014 · €45.40

Designed to start children on the path to reading, this pack contains the first four Very First Reading titles, workbook with parents' notes and a link to and advice on using the Teach your Monster to Read computer game. It introduces the letter sounds in the order normally used in schools, using the synthetic phonics system.
We're MAD About...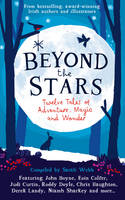 Beyond the Stars
by Sarah Webb
Read Our Review...
Teen Choice