Children's Picture Books
Paperback · 20 Jan 2007 · €8.99

Meet the Hugglewugs, a brand-new family. Follow them as they go about their everyday lives - singing, eating, going to school, running, sliding, skipping and, of course, hugging! This title offers an introduction to first words and counting for the very young, and features illustrations that bring these characters to life.
Big book · 07 Apr 2003 · €8.00

He's wild, he's wicked, he's Little Rabbit Foo-Foo! The bully-boy bunny likes nothing better than to ride through the forest bopping everyone on the head. Wriggly worms, tigers, no one is safe. But here comes the Good Fairy - and she is not amused!
Hardback · 06 Sep 2012 · €14.70

Never fear, Superworm's here! He can fish Spider out of a well, and rescue Toad from a busy road. But who will come to Superworm's rescue, when he's captured by a wicked Wizard Lizard? Luckily,ll of Superworm's insect friends have a cunning plan...
Paperback · 03 Jul 2006 · €8.00

One day, Neligan's pig sits by the pond watching the ducks and geese play on the cool water. The pig gets hotter and hotter; the ducks and the geese get louder and louder. Then Neligan's pig does something quite unheard of - she jumps in the pond.
Hardback · 11 Oct 2012 · €14.70

The breathtakingly beautiful story of one little girl and her five paper dolls.
Paperback · 01 Sep 2011 · €8.99

Zog is the keenest dragon in school. He's also the most accident-prone, flying into trees and even setting his own wing on fire. Luckily, a mysterious little girl always comes by and patches up his bumps and bruises. But will she be able to help Zog with his toughest test: capturing a princess?
Paperback · 02 May 2011 · €8.00

Dog loves his friends. He thinks they're brilliant. But he also thinks that he's the best, and he just won't stop telling them. So what happens when his friends decide to teach him a lesson, by showing him all the things they are best at?
Paperback · 07 May 2010 · €8.99
Paperback · 20 Sep 2012 · €9.99
Paperback · 11 Aug 2000 · €8.99

This very clever, funny story from the author/illustrator team that brought you the prize-winning THE GRUFFALO.
Paperback · 01 Mar 2012 · €8.99

The Jolley-Rogers move to Dull-on-Sea and get tongues wagging!
Paperback · 27 Sep 2012 · €8.00

The queen of hearts is holding a ball to find the PERFECT girl for her PERFECT prince. But Cinderella doesn't have an invitation or a dress - what's a girl to do? Luckily, Kittie Lacey, fabulous hairdresser to the fairytale stars is on hand to give Cinderella a job, find her the PERFECT dress and get her in to the ball.
Paperback · 02 Feb 2012 · €8.00

A firm family favourite from award-winning illustrator Nick Sharratt.
Paperback · 04 Apr 2005 · €8.00
Paperback · 04 Sep 1995 · €8.00

The winner of the Smarties Book Prize and the Children's Illustrated Book of the Year, this story is about a duck who lived with a lazy old farmer. The duck did all the work while the farmer stayed in bed all day. Then the other animals decided to take action!
We're MAD About...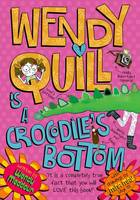 Wendy Quill is a
Crocodile's Bottom
by Wendy Meddour
& Mina May
Read Our Review...
Teen Choice