Children's Picture Books
Paperback · 05 Sep 2013 · €10.99

Introduces us to a rather grumpy Father Christmas. In this book, Father Christmas has awoken from a dream of summer sun to discover it is December 24th, Christmas Eve - the start of his longest night's work of the year.
Paperback · 27 Oct 2011 · €10.99

One winter's night, a snowman comes to life and an unforgettable adventure begins.
Paperback · 21 Aug 1999 · €9.50

The nation's favourite bedtime story!
Paperback · 05 Feb 2010 · €7.99

The complete adventures of Shamrock Sean, the loveable leprechaun. Follow Sean as he goes fishing, finds a magical wishing well and watches a chick magically hatch.
Paperback · 05 Sep 2013 · €9.50

The wiggly, squiggly superhero is now available in paperback. Never fear, Superworm's here! He can fish Beetle out of a well, and rescue Toad from a busy road. But who will come to Superworm's rescue, when he's captured by a wicked Wizard Lizard? Luckily, all of Superworm's insect friends have a cunning plan...
Hardback · 01 Aug 2013 · €17.95
Our Price: €13.99

The Number One New York Times Bestseller! Debut author Drew Daywalt and international bestseller Oliver Jeffers team up to create a colourful solution to a crayon-based crisis in this playful, imaginative story that will have children laughing and playing with their crayons in a whole new way.
Board book · 02 Jul 2010 · €9.50

A new edition of Rod Campbell's classic lift-the-flap book.
Board book · 29 Sep 1994 · €9.50

Suitable for children, this title covers colourful collage illustrations and its deceptively simply, hopeful story. It features die-cut pages and finger-sized holes to explore.
Hardback · 29 Aug 2013 · €15.20

When their beautiful golden ring is stolen, the Owl and the Pussy-cat must travel far from the safety of the Bong-tree glade as their search for the thief leads them across the Sea, to the Chankly Bore and beyond...
Paperback · 15 Aug 2013 · €9.50

A tender and poignant story about loving something - and knowing when to let it go.
Paperback · 20 Sep 2002 · €9.50

Join the witch and her cat for a broomstick adventure!
Paperback · 06 Feb 2006 · €9.50

This classic story of Sophie and her extraordinary tea-time guest has been loved by millions of children since it was first published over 30 years ago. Now a new generation will enjoy this beautiful reformatted edition!
Paperback · 02 May 2006 · €9.50

From the rising star of children's picture books comes the magical tale of friendship and loneliness, a boy and a penguin.
Paperback · 29 Aug 2013 · €9.50

WINNER of the Irish Book Awards Children's Book of the Year 2012 and the Honour Award for Illustration from Childrens' Books Ireland, 2013. An exquisite new book, featuring a boy and his moose, from internationally bestselling, multi-prize-winning picture book creator, Oliver Jeffers.
Paperback · 02 Sep 2005 · €9.50

The publishing sensation of 2004, now available in paperback!
Paperback · 07 Sep 2009 · €9.50

"Stick Man lives in the family tree With his Stick Lady Love and their stick children three." But it's dangerous being a Stick Man. A dog wants to play with him, a swan builds her nest with him. He even ends up on a fire! Will he ever get back to the family tree?
Paperback · 02 May 2011 · €9.50

Little Owl must be more careful when he is sleeping. He has fallen from his nest, and with a bump he lands on the ground. Where is his mummy? With the earnest assistance of his new friend Squirrel, Little Owl sets off in search of her, and meets a sequence of other animals.
We're MAD About...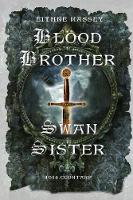 Blood Brother Swan Sister
by Eithne Massey
Read Our Review...
Teen Choice