Children's Picture Books
Paperback · 02 Jan 2014 · €9.50
Our Price: €6.99

Happy Birthday, Gruffalo!
Board book · 29 Sep 1994 · €9.50

Suitable for children, this title covers colourful collage illustrations and its deceptively simply, hopeful story. It features die-cut pages and finger-sized holes to explore.
Paperback · 08 May 2014 · €4.15

Little Miss Hug is an expert hugger. More than anything else, she loves to hug her friends and make them feel better. And there are times when she hugs just for the fun of it. After all, everyone needs a hug, don't they?
Paperback · 06 Feb 2006 · €9.50

This classic story of Sophie and her extraordinary tea-time guest has been loved by millions of children since it was first published over 30 years ago. Now a new generation will enjoy this beautiful reformatted edition!
Paperback · 28 Mar 2013 · €9.50

Did you ever go to Silversands on a sunny summer's day? Then perhaps you saw the mermaid who sang in the deep blue bay.
Paperback · 05 Mar 2010 · €9.50

A witty farmyard thriller from the author of THE GRUFFALO!
Paperback · 03 Sep 2004 · €9.50

The thrilling tale of a tiny snail and a great big grey-blue humpback whale ...
Paperback · 01 Sep 2008 · €9.50

Every day, Tiddler is late for school, and every day he has another tall tale for his teacher. But did he really ride a seahorse? Did he really meet a mermaid? And who will believe him when he really does get captured in a net? "Picture-book perfection ... It's got laughs, drama and great rhymes." INDEPENDENT
Paperback · 28 Feb 2014 · €1.40

A special Hugless Douglas story created just for World Book Day.
Board book · 01 May 2014 · €6.90

Peppa and her family enjoy a day of cycling fun in Peppa's Big Race. Peppa and her family are going cycling. Peppa loves cycling down the hill but she's not so keen on pedaling back up! So, when Peppa and her friends decide to race, she insists it should be downhill all the way! Will Peppa win the big race?
Paperback · 24 Apr 2014 · €9.50
Our Price: €7.99

A glittery adventure from the bestselling creators of WHAT THE LADYBIRD HEARD.
Paperback · 11 Aug 2000 · €9.50

This very clever, funny story from the author/illustrator team that brought you the prize-winning THE GRUFFALO.
Paperback · 03 Feb 2011 · €9.50

Have you heard of the Beasts? No, not many people have. That's because they are very rare. This title tells the tale of one such Beast, whose determination to overcome his loneliness leads him to undertake a daring and dangerous quest to find others like him...
Board book · 05 May 2011 · €6.90

Suitable for Daddy Pig's and children everywhere, this book talks about how much Peppa and George love their daddy, with all his little quirks.
Paperback · 05 Sep 2003 · €9.50

A warm tale about a friendly giant whose heart is better than his dress sense!
Paperback · 20 Sep 2002 · €9.50

Join the witch and her cat for a broomstick adventure!
Paperback · 01 Sep 2011 · €9.50

Zog is the keenest dragon in school. He's also the most accident-prone, flying into trees and even setting his own wing on fire. Luckily, a mysterious little girl always comes by and patches up his bumps and bruises. But will she be able to help Zog with his toughest test: capturing a princess?
Paperback · 10 Apr 2014 · €9.50
Paperback · 04 Jun 2004 · €9.50

"a bit of a classic... A goat on the bed and a cow on the table tapping out a jig? My readers collapsed in heaps, and then had to have it read again. And again." Vivian French in the Guardian
Paperback · 07 Sep 2009 · €9.50

"Stick Man lives in the family tree With his Stick Lady Love and their stick children three." But it's dangerous being a Stick Man. A dog wants to play with him, a swan builds her nest with him. He even ends up on a fire! Will he ever get back to the family tree?
We're MAD About...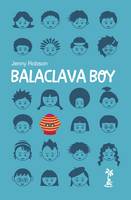 Balaclava Boy
by Jenny Robson
Read Our Review...
Teen Choice