We're Mad About Books...
Each month we pick the new children's book that we think stands out from the herd, books that are destined to become the classics for this generation and generations to come, in short, books that we are mad about.
Hijinks abound with this dysfunctional fox and alligator duo!
Paperback · 06 Mar 2014 · €6.90
Our Price: €5.99

From two of the hottest new talents around comes a crazy new series bursting with ridiculous scrapes and slapstick humour.
When Alphonso the Alligator arrives unexpectedly on her doorstep, Foxy DuBois has no idea that within a very short time she will be penniless and living in fear of being gobbled up for lunch. Alphonso's insatiable appetite is a constant source of worry for Foxy because if she doesn't keep his tummy full then she will be next on the menu. When Foxy devises a get-rich-quick scheme to rid herself of Alphonso, she has no idea of the chaos she is about to unleash. Hijinks abound!
The first in a hilarious new series for younger readers, Foxy Tales: The Cunning Plan is sure to delight both adults and children alike. With its super cast of characters, highly-entertaining plot and fabulous illustrations, this book is guaranteed to keep the entire family hooked and in stitches.
- Sally Kingston, Dubray Books Bray
2014 Choices
Paperback · 02 Jan 2014 · €8.99
Our Price: €7.99
Hardback · 01 Feb 2014 · €15.20
Our Price: €10.99

All young dinosaurs are warned about the scary Gigantosaurus. So Bonehead volunteers to be the dino-kids lookout. Unfortunately, he is the original boy-dinosaur who cried wolf, or in this case, GIGANTOSAURUS! Finally, Bonehead's friends refuse to believe his warnings and the Gigantosaurus really turns up!
We're MAD About...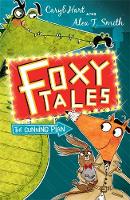 The Cunning Plan
by Caryl Hart
& Alex T. Smith
Read Our Review...
Teen Choice