We're Mad About Books...
Each month we pick the new children's book that we think stands out from the herd, books that are destined to become the classics for this generation and generations to come, in short, books that we are mad about.
Four children have to choose sides in this magical retelling of the Battle of Clontarf
This enchanting adventure takes place exactly 1000 years ago, in the days immediately before the Battle of Clontarf. It's the story of four children whose lives unexpectedly cross in a most surprising manner!
Elva's big sister Arna often mysteriously disappears from their house late at night, while Dara and his father are marching from Munster to join Brian Boru's army. Skari and his clan set sail from the Orkney Islands to fight for King Sitric of Dublin. There is tension is in the air as the battle date approaches. Everyone is on tenterhooks as a battle this large fills them all with trepidation.
Eithne Massey masterfully builds up the tension as the day of battle dawns. Her previous books include The Silver Stag of Bunratty, The Secret of Kells and Where the Stones Sing. I really, really enjoyed this mystical, intriguing story of adventure and magic. This is a must-read for everyone aged 10 and over.
- Vivienne Luke, Dubray Books Rathmines
2014 Choices
We're MAD About...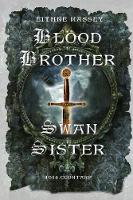 Blood Brother Swan Sister
by Eithne Massey
Read Our Review...
Teen Choice