We're Mad About Books...
Each month we pick the new children's book that we think stands out from the herd, books that are destined to become the classics for this generation and generations to come, in short, books that we are mad about.
A fantastic gift to be treasured by a new generation of children.
Hardback · 04 Nov 2013 · €14.99

A major, beautifully-illustrated collection of Oscar Wilde's favourite children's tales known and loved throughout the world. It includes: * The Happy Prince * The Selfish Giant * The Nightingale and the Rose This gorgeous production brings Wilde's magical stories to a whole new generation.
This gorgeous new edition of Oscar Wilde – Stories for Children, with Charles Robinson's beautifully coloured illustrations, will make a fantastic gift to be treasured by a new generation of children.
A devoted swallow stays on through winter with the golden statue of the Happy Prince, bringing the Prince's help to those in need. A romantic nightingale gives a young student the red rose he needs in order to win his love. A Selfish Giant learns the beauty of generosity as he shares his garden with the children who love to play there.
In these three wonderfully moving fables, Oscar Wilde shows us compassion, loyalty, generosity, love, charity and beauty as well as poverty, greed and vanity. Here, art imitates life – there isn't always a 'happy ever after' – but Wilde's writing is as enchanting and captivating as ever, making these stories truly unforgettable.
- Aoife Roantree, Blackrock
2013 Choices
Paperback · 03 Oct 2013 · €10.99
Hardback · 29 Aug 2013 · €17.35

Lucy Carlyle, a talented young agent, arrives in London hoping for a notable career. Instead she finds herself joining the smallest most ramshackle agency in the city, run by the charismatic Anthony Lockwood. When one of their cases goes horribly wrong, Lockwood & Co have one last chance of redemption.
Paperback · 04 Jul 2013 · €8.99
Our Price: €7.99

One night in 1941, the war comes to Peter when a German plane crashes into woods near where he lives. Peter rushes to the crash hoping to find something exciting to keep. But what he finds instead is someone: a young and injured German airman in need of his help.
Paperback · 06 Jun 2013 · €17.35

A glorious epic fantasy in the grand tradition of CS Lewis and Philip Pullman. The Mirror Chronicles will take you into another world, and on the adventure of your lifetime...
Paperback · 02 May 2013 · €8.00

Everyone calls me 'Wheezy Bird' because of the way I laugh. It's a kind of 'giggle, wheeze, giggle, wheeze'. I can't really help it- it's just the noise that comes out when things are funny. But my real name is Wendy Quill and this is the story of how I got to be a little bit famous.
Paperback · 07 Mar 2013 · €8.00

Like MUPPETS TREASURE ISLAND. But a little less fur. And in the sky.
Hardback · 07 Feb 2013 · €13.35
Paperback · 03 Jan 2013 · €8.99

Jake Polson and his family are starting a new life on the American Frontier. Twelve-year-old Jake is proud to drive the lead wagon; he's in charge of the oxen and minding his Ma and little sister. But tragedy strikes and Jake must venture deep into the West in search of a legendary creature to save his family.
We're MAD About...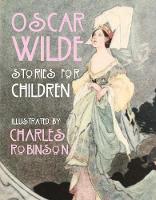 Stories For Children
by Oscar Wilde
Read Our Review...
Teen Choice