We're Mad About Books...
Each month we pick the new children's book that we think stands out from the herd, books that are destined to become the classics for this generation and generations to come, in short, books that we are mad about.
Astra wakes up on board her spaceship to discover flying mutant space cakes with sharp, giant teeth that love to gobble up little girls EVERYWHERE! You too will gobble up this wonderful, whacky space adventure.
Astra is travelling with her Mum and Dad and baby brother to their new home on Nova Mundi. Tucked up in their sleeping pods, they expect to arrive on the new planet, light years away – but trouble strikes! Astra wakes up early to discover the ship is in danger. The canteen is full of flying space cakes with beady eyes and sharp, giant teeth. Everybody loves cake, right? Not these cakes! People should eat cakes – not the other way round. Stranger still, the ship has been invaded by a gang of Poglites. Who are they and what do they want? Along with her robot friend Pilbeam, Astra must fight the mutant cakes and get the spaceship back on course for Nova Mundi. This is another splendiferous adventure from the duo that brought us Oliver and the Seawigs. You'll gobble this one right up!
- Josie van Embden, Dun Laoghaire
2014 Choices
We're MAD About...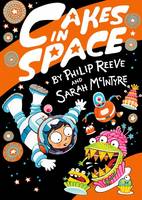 Cakes in Space
by Philip Reeve
& Sarah McIntyre
Read Our Review...
Teen Choice