We're Mad About Books...
Each month we pick the new children's book that we think stands out from the herd, books that are destined to become the classics for this generation and generations to come, in short, books that we are mad about.
From Dangerous Dice to Vampire Teachers – this brilliantly funny and fully illustrated handbook by world-renowned Dangerologist, Docter Noel Zone, is a must-have for every house!
Have you ever poked yourself with your fork? Got dice stuck up your nose? Been attacked by a toothbrush snake? Is your pet cat actually a small tiger? Is your teacher really a vampire? If you answered 'Yes' or 'Maybe' to any of these questions, then this is the book for you! Danger is Everywhere is the latest guide to how to cope with the dangers you will encounter around every corner, written by the world's most famous Dangerologist, Docter Noel Zone.
This brilliantly educational and helpful handbook will be an invaluable addition to every home – just be sure to watch out for the dreaded Page 9 Scorpion!
- Aoife Roantree, Dubray Books Blackrock
2014 Choices
We're MAD About...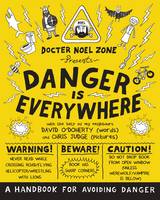 Danger is Everywhere
by David O'Doherty
Read Our Review...
Teen Choice