Mary Burnham's Column
Mary Burnham's voracious appetite for reading and her delight in sharing her book knowledge with our customers made her the natural choice when we wanted to appoint a Book Club advisor.
Read more about Mary...
---
As a teenager, I'd stay up all night to finish the paperback novels I found crammed three deep on shelves in every corner of the house: Agatha Christie, Paul Gallico, Sherlock Holmes, Neville Shute, Elizabeth Goudge, Howard Spring, all books my mother loved, kept higgledy-piggledy upstairs, downstairs and in my lady's chamber. There didn't seem to be any need for parental censorship as all of these writers had one thing in common: they wrote excellent stories that didn't rely on sensational sex or vivid violence to keep the reader glued to the page. I could read them all again today.
A Good Book to Read is an Unparalled Joy For a Gal Like Me!
The Hungarian writer, Magda Szabó, was born in 1917, the same year as my mother, and though they had very different lives, I think they would have recognised each other as kindred spirits. My mother was a talented pianist and though many difficulties came her way nothing could quench her thirst for life or her love of music. Magda Szabó was an educated woman whose first passion was writing poetry; she went on to write plays and novels that have been published in over forty countries. During Stalinist rule, however, she was dismissed from her job as a civil servant with the Ministry of Religion & Education. To add insult to injury, the Government forbade publication of her award winning writings. At the same time as Szabó was obliged to turn to teaching in an elementary school for her living, my mother put Chopin and Rachmaninoff aside to teach young hopefuls their scales and arpeggios in the afternoons and later in the evening would accompany strident sopranos whose top notes would drive our cat from the living room, his ears flickering at the uneasy sound.
Two women, both influential in their own way, born in a time that wasn't kind to either of them. It is my luck to be alive in a time of so much opportunity.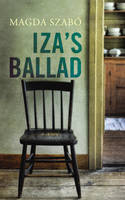 Iza's Ballad tells of an old couple, Vince and Ettie, and their amazing daughter, Iza, who leaps to grasp every opportunity that comes her way. Vince, her father, is shamed by the regime and loses his position but with Ettie by his side he survives to live a good life. Everyone loves Iza; her parents, the local people, her patients, her colleagues. Even her ex-husband Antal loves her - why then does he leave her, divorce her and eventually find someone else to share his life? At first the reader has no idea but as the story evolves it becomes clear that everyone has the choice to be loved or to turn away even those who are dearest to their hearts.
I thoroughly enjoyed The Door, Magda Szabó's first novel to be translated into English. This story is set in post war Hungary, a country that suffered four decades of communist dictatorship before joining the European Union in 2005. You can almost smell the air and see the landscape, the writing is so atmospheric. This is about Emerence, a woman known and respected by everyone in the neighbourhood. Yet no one has ever been inside her home - she entertains on a front porch that might as well be a beautifully appointed drawing room, in which she serves excellent food accompanied by lively engaging conversation. Emerence consents to clean for a young writer and her husband but only after she has decided they are worthy of her attentions. She enters their lives as a welcome addition at first, but the couple soon weary of her odd behaviour. We eventually enter "the door" of Emerence's home, a profound experience for the reader, who feels like an interloper into the life of this unusual woman. This is a superb read and one you'll not forget in a hurry.

---
In the old days – in my pre-Dubray Books days – I'd always finish reading a book once I had started; whether it was good, bad or silly, I'd keep on going right to the end. But those days are over now that I've realised there are thousands of excellent books out there waiting to be appreciated. I've resolved never again to waste limited reading time on anything that doesn't enrich my life in some way. So when Nigel, a publisher's rep, thrust a doorstopper of a book under my nose saying 'you might like this, it's a huge hit in France', I thanked him profusely while thinking, hmmm, well I'll give it a whirl, read four or five pages and see if it grabs me. One week later when I'd done nothing other than the bare necessities to get by, I put it down thinking wow! that was a really great read. Thanks Nigel!
The Incorrigible Optimists Club by Jean-Michel Guenassia
This novel is set in Paris in the late 1950s when Michel Marini is twelve years old. We meet his close family and also his maternal and paternal relatives who have never seen eye to eye on anything but who are stuck with each other due to a marriage that should never have taken place. Simmering in the background is the Algerian War and the term Pied-Noir (I'd never heard it before) used to describe the European-descendent citizens who returned to mainland France after Algeria gained independence in the early 1960s.
Michel is a curious boy who develops many passions – including table football, reading and photography – with the help of a group of characters who frequent the Balto, a local bistro. Michel goes to play 'baby-foot' and is eventually adopted by the hard men who eat, drink, and argue violently about the past. There's Leonid and Igor, Big Ears, Vladimir, Franck and also Sacha, who hangs about until he's noticed and kicked out again. Each of these men has a story to tell (though no one will explain why they all hate Sacha) taking us behind the Iron Curtain or over to Greece with Gregorious – who made me laugh out loud with his insufferable pride in his native language.
This wonderful first novel by the Algerian born Jean-Michel Guenassia should give all aspiring novelists hope to hear that he wrote it when he was 59 years young. It won the prestigious French literary award Prix Goncourt des Lycéens in 2009 and Guenassia has now written a second novel, La Vie Rêvée d'Ernesto G – hopefully being translated into English at this very moment. I look forward to the day when Nigel hotfoots it into Dubray Books with a copy and I promise to be more appreciative this time around and try not to snatch it from his outstretched hand.
3 For 2 Promotion*
*Lowest priced book free
Recommended
Promotions
Children's