Mary Burnham's Column
Mary Burnham's voracious appetite for reading and her delight in sharing her book knowledge with our customers made her the natural choice when we wanted to appoint a Book Club advisor.
Read more about Mary...
---
When I first joined Dubray Books in 2002 I decided the only way I could have an opinion on the Man Booker Prize was to read all the six shortlisted novels: The Story of Lucy Gault by William Trevor, Dirt Music by Tim Winton, Fingersmith by Sarah Waters, Family Matters by Rohinton Mistry, Unless by Carol Shields and the winning title, The Life of Pi by Yann Martel. These six novels were all excellent so it was no chore but rather an absolute pleasure from start to finish. Did I figure out which one stood out from the rest? I certainly did. My only regret is that I didn't go straight down to the local bookmakers and put my entire salary on it!
Man Booker Prize for Fiction 2014
For 45 years, The Man Booker Prize has attracted global media attention with its longlist, shortlist and eventual winning novel. Authors on these lists can be assured of a huge readership and, for the lucky winner, it seems their book will never go out of print. The prize money, at £50,000, is not the largest purse but the increase in sales for years to come more than compensates. If you are in a book club, you'll always find something worth reading on the list of past winners but don't forget the six shortlisted titles as they are usually more than worthy of attention.
The 2014 Man Booker Prize is chaired by philosopher and author A.C. Grayling. On the judging panel are writer and lecturer, Sarah Churchwell; writer and former literary editor of the Times, Erica Wagner; former director of literature at the British Council, Dr Alastair Niven; neuroscientist and cultural commentator; Dr Daniel Glaser; and Shakespearean scholar and Oxford Professor, Jonathan Bate. Their verdict will be announced on the 14th October.
Up until this year, to be eligible for this literary prize an author had to be a citizen of the Commonwealth, the Republic of Ireland or Zimbabwe, but this rule was changed in 2013 to include any book written in English and published in the United Kingdom. On the list are two American authors, Joshua Ferris and Karen Joy Fowler; Indian writer, Neel Mukherjee; Richard Flanagan from Australia; English writer, Howard Jacobson; and Ali Smith from Scotland. Irish authors, Niall Williams with History of the Rain and Joseph O'Neill with The Dog, didn't make the shortlist but both are well worth reading.
For this, her seventh novel, Fowler has already won the Pen/Faulkner Award for 2014. While most of us will remember her very successful novel, The Jane Austen Book Club, Fowler is also well known for writing fantasy fiction.
I'm slacking, as this is the only shortlisted novel I have read so far – a novel with a most unusual story line. Not long ago, Karen Joy Fowler arrived in Dun Laoghaire and I was lucky enough to be in a small audience as she spoke about her thoughts on writing. She was an absolutely pleasure to listen to and would inspire any budding author. Were she to grace our shores again, I can promise her a much larger audience as this novel has outsold every other book on the list to date.
This is Ferris's third novel, although he is also well known for his short stories. His first novel, Then We Came to the End won the 2007 PEN/Hemingway Award. As the youngest writer on the shortlist, Ferris has a spring in his step that will keep everyone on their toes.
Flanagan is a highly regarded Australian writer and this is his fourth novel. He has also written non-fiction and was scriptwriter on two films, The Sound of One Hand Clapping and Australia.
J by Howard Jacobson
This is Jacobson's twelfth novel. His earlier novel, The Finkler Question, won the Man Booker Prize in 2010. Jacobson is known for his humour, in particular when it comes to the British Jewish dilemma.
Mukherjee has written three novels; his first, Past Continuous, won him the GH (India) Writer of the Year. At 528 pages, this is the longest book on the list but one I do look forward to reading.
With six novels under her belt, Smith was previously shortlisted for the 2005 Man Booker Prize with The Accidental. In 2007, Smith was elected a Fellow of the Royal Society of Literature.
This year's shortlisted books are an eclectic bunch. Will it be second time around for Howard Jacobson or perhaps Richard Flanagan will surprise everyone? I've just looked at the Paddy Power website where the odds for each book are as follows:
Joshua Ferris - 10/1
Richard Flanagan - 6/1
Karen Joy Fowler - 5/1
Howard Jacobson - 9/2
Neel Mukherjee - 2/1
Ali Smith - 3/1
Once again, I'll be keeping my wallet firmly shut but my eyes wide open as I race through this exciting shortlist. Each in their own way must be a worthy winner but only one title will be chosen and then bets will be taken for next year's hopefuls before we've had time to draw breath!

---
As a teenager, I'd stay up all night to finish the paperback novels I found crammed three deep on shelves in every corner of the house: Agatha Christie, Paul Gallico, Sherlock Holmes, Neville Shute, Elizabeth Goudge, Howard Spring, all books my mother loved, kept higgledy-piggledy upstairs, downstairs and in my lady's chamber. There didn't seem to be any need for parental censorship as all of these writers had one thing in common: they wrote excellent stories that didn't rely on sensational sex or vivid violence to keep the reader glued to the page. I could read them all again today.
A Good Book to Read is an Unparalled Joy For a Gal Like Me!
The Hungarian writer, Magda Szabó, was born in 1917, the same year as my mother, and though they had very different lives, I think they would have recognised each other as kindred spirits. My mother was a talented pianist and though many difficulties came her way nothing could quench her thirst for life or her love of music. Magda Szabó was an educated woman whose first passion was writing poetry; she went on to write plays and novels that have been published in over forty countries. During Stalinist rule, however, she was dismissed from her job as a civil servant with the Ministry of Religion & Education. To add insult to injury, the Government forbade publication of her award winning writings. At the same time as Szabó was obliged to turn to teaching in an elementary school for her living, my mother put Chopin and Rachmaninoff aside to teach young hopefuls their scales and arpeggios in the afternoons and later in the evening would accompany strident sopranos whose top notes would drive our cat from the living room, his ears flickering at the uneasy sound.
Two women, both influential in their own way, born in a time that wasn't kind to either of them. It is my luck to be alive in a time of so much opportunity.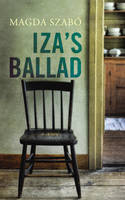 Iza's Ballad tells of an old couple, Vince and Ettie, and their amazing daughter, Iza, who leaps to grasp every opportunity that comes her way. Vince, her father, is shamed by the regime and loses his position but with Ettie by his side he survives to live a good life. Everyone loves Iza; her parents, the local people, her patients, her colleagues. Even her ex-husband Antal loves her - why then does he leave her, divorce her and eventually find someone else to share his life? At first the reader has no idea but as the story evolves it becomes clear that everyone has the choice to be loved or to turn away even those who are dearest to their hearts.
I thoroughly enjoyed The Door, Magda Szabó's first novel to be translated into English. This story is set in post war Hungary, a country that suffered four decades of communist dictatorship before joining the European Union in 2005. You can almost smell the air and see the landscape, the writing is so atmospheric. This is about Emerence, a woman known and respected by everyone in the neighbourhood. Yet no one has ever been inside her home - she entertains on a front porch that might as well be a beautifully appointed drawing room, in which she serves excellent food accompanied by lively engaging conversation. Emerence consents to clean for a young writer and her husband but only after she has decided they are worthy of her attentions. She enters their lives as a welcome addition at first, but the couple soon weary of her odd behaviour. We eventually enter "the door" of Emerence's home, a profound experience for the reader, who feels like an interloper into the life of this unusual woman. This is a superb read and one you'll not forget in a hurry.
3 For 2 Promotion*
*Lowest priced book free
Recommended
Promotions
Children's