Mary Burnham's Column
Mary Burnham's voracious appetite for reading and her delight in sharing her book knowledge with our customers made her the natural choice when we wanted to appoint a Book Club advisor.
Read more about Mary...
---
All it takes to transport me back to childhood is the sound of a piano, the notes trickling down my spine like a memory nerve that springs into life. I can be in the middle of doing something quite ordinary when my ears prick up at the hint of Beethoven's crashing chords from a distant radio, or the sound of Schumann though an open window as I walk through the side streets of Dun Laoghaire. I can (mostly) ignore the inane muzak that drones from hidden speakers in shopping centres but if – by mistake, never by design – they should play a piece of piano music, I find myself rooted to the spot, aware of each note and sucking in the sound as if it were air. I blame my mother, of course, but in a nice way. Gretta McCarr was a classically trained pianist who made our piano sing by the light of the street lamp outside the window while I hid under our baby grand, afraid to break the spell. She'd often play Chopin, a much loved composer, making great leaps with her small hands to cover the keys with split second timing. So every time I hear the tinkling of ivories I remember my mum as she played her heart out, the house in darkness and the sound filling our lives with light.
Chopin Ballade No. 1 In G Minor, Opus 23 (1831)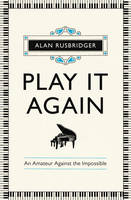 Alan Rusbridger is editor-in-chief of the Guardian newspaper; he is also passionate about music and, in particular, playing the piano. In 2010 he attended Piano Camp in France where he heard a fellow amateur musician play Chopin's Ballade No 1 in G Minor and he resolved there and then that he would master this piece himself. Rusbridger spent the next eighteen months trying to insert one of Chopin's most beautiful and intricate pieces into his brain and into his recalcitrant fingers while juggling an enormous workload that seemed to start at the crack of dawn going on well into the dead of night. There were days when he practiced before heading out to work but it was mostly a matter of stolen minutes rather than hours. He occasionally found time for a lesson with teachers (who had the patience of Job!) and he talked to every pianist he encountered about the piece of music that had become a personal obsession.
Most professional pianists learn Chopin's Ballade No 1 when they are in their early teens while Alan's good friend, the renowned pianist Murray Perahia, admitted he was only eight years old. Rusbridger was now painfully aware of every one of his fifty-six earthly years as he embarked on this marathon of learning. Was it too late? Would he be up to the challenge? When would he find the time to practice? Was he completely bonkers to even try?
While various teachers and this aging pupil were agonising over fingering (you need long fingers, with at least six on each hand to cope with some of the stretches involved) I was reminded of my dear mother who would rarely sit still while teaching her beloved pupils. In and out of the room she'd go, even up the stairs to find an elusive ball of wool, but woe betide you if you used the wrong finger (some would try, just for the hell of it) as you struggled through a newly learned piece. But she could hear the misplacement and call out in her singsong voice, 'fourth finger on G', to the amazement of eight and ten year-olds who realised that this was a woman who truly had eyes in the back of her head.
I searched on YouTube for recordings of this demanding piece of music and found Arthur Rubinstein, Krystian Zimerman, Vladimir Horowitz, Maurizio Pollini and many others all playing it beautifully, faultlessly and passionately. I listened to the piece over and over again, occasionally following the score (neatly tucked away at the back of the book) wildly trying to keep on track, the notes zigzagging up and down the page, quavers, semi-quavers, demi-semi-quavering all over the place. I would be fine for the first forty-two bars and then became horribly lost, my eyes glazing over the next jumble of notes and chords on the page. Then, somehow, I'd recognise the rapidly descending G minor scale in bar 246 and managing to hold on until the dramatic end. I came to love the piece and decided to take up the challenge myself...one of these days.
This memoir is a wonderfully readable adventure that takes the reader through the intricacies of Chopin's piece that demands total commitment and concentration – and at least sixteen fingers!

---
Were I to write an account of my own life it would be full of mundane details, my own version of the truth peppered with many unbelievable events, as if exaggerated for comic effect. In fact, were I to publish and be damned, I would be damned by relatives and friends alike.
Imagine, for instance, the afternoon of my birth when Dr Acton himself baptised me, so worried was he that I might not make it through the night. Mum chuckled and giggled all day long (was that the ether?) at the thought of her old adversary - he a Church of Ireland man, she a Catholic, both argumentative and unyielding - performing a religious rite that she felt was against his nature, that is, until she realised why. Obviously I survived, so no harm done!
The most important thing is how you live the life you're given. This is how Mark Twain described the ideal life:
Good Friends, Good Books, and a Sleepy Conscience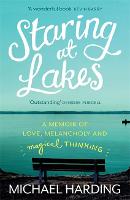 There are shelf loads of biographies and autobiographies that hold the key to how so many famous and infamous lives have been lived. Some of them are nothing more than a brag list of wealth accumulated, constant name-dropping and jewellery-dripping wrists, necks and fingers. But others tell of a life lived with curiosity and, occasionally despair; a life that is like a peepshow into a person's soul, giving us some insight into our own private thoughts and feelings, as if a mirror were held up for our introspection.
Staring at Lakes by Michael Harding is described as a memoir of love, melancholy and magical thinking. I must be one of the few people in Ireland who hadn't come across Michael Harding but, as this book was on the best-seller list, I thought I'd better check it out for myself.
Michael, as I now know, is a playwright, an Irish Times columnist and an author; he is a son of the county Leitrim, past resident of Mullingar (which was nigh on metropolitan in contrast), father, husband, and ex-priest. In his memoir, Michael takes us on his personal journey from religious life to married life, from traditional prayer to deep meditation, from literary success to the depths of despair that sees him confined to his room, curtains drawn, with his beloved bringing meals and staying by his side in the shadows.
By the end of the book I felt I had come to know this man so well even though I wouldn't recognise him if we fell over each other in the scrum that is Cleary's annual sale! I admire his candour about the difficulties he experienced in his life; Michael's weaknesses are definitely his strengths. The writing comes straight from the heart; he talks directly to the reader as if we were sitting, one to one, in a quiet room, with a gentle breeze blowing through an open window. Yes, this book certainly deserves to be on the bestseller list; it is simply wonderful.

3 For 2 Promotion*
*Lowest priced book free
Recommended
Promotions
Children's