Mary Burnham's Column
Mary Burnham's voracious appetite for reading and her delight in sharing her book knowledge with our customers made her the natural choice when we wanted to appoint a Book Club advisor.
Read more about Mary...
---
In the old days – in my pre-Dubray Books days – I'd always finish reading a book once I had started; whether it was good, bad or silly, I'd keep on going right to the end. But those days are over now that I've realised there are thousands of excellent books out there waiting to be appreciated. I've resolved never again to waste limited reading time on anything that doesn't enrich my life in some way. So when Nigel, a publisher's rep, thrust a doorstopper of a book under my nose saying 'you might like this, it's a huge hit in France', I thanked him profusely while thinking, hmmm, well I'll give it a whirl, read four or five pages and see if it grabs me. One week later when I'd done nothing other than the bare necessities to get by, I put it down thinking wow! that was a really great read. Thanks Nigel!
The Incorrigible Optimists Club by Jean-Michel Guenassia
This novel is set in Paris in the late 1950s when Michel Marini is twelve years old. We meet his close family and also his maternal and paternal relatives who have never seen eye to eye on anything but who are stuck with each other due to a marriage that should never have taken place. Simmering in the background is the Algerian War and the term Pied-Noir (I'd never heard it before) used to describe the European-descendent citizens who returned to mainland France after Algeria gained independence in the early 1960s.
Michel is a curious boy who develops many passions – including table football, reading and photography – with the help of a group of characters who frequent the Balto, a local bistro. Michel goes to play 'baby-foot' and is eventually adopted by the hard men who eat, drink, and argue violently about the past. There's Leonid and Igor, Big Ears, Vladimir, Franck and also Sacha, who hangs about until he's noticed and kicked out again. Each of these men has a story to tell (though no one will explain why they all hate Sacha) taking us behind the Iron Curtain or over to Greece with Gregorious – who made me laugh out loud with his insufferable pride in his native language.
This wonderful first novel by the Algerian born Jean-Michel Guenassia should give all aspiring novelists hope to hear that he wrote it when he was 59 years young. It won the prestigious French literary award Prix Goncourt des Lycéens in 2009 and Guenassia has now written a second novel, La Vie Rêvée d'Ernesto G – hopefully being translated into English at this very moment. I look forward to the day when Nigel hotfoots it into Dubray Books with a copy and I promise to be more appreciative this time around and try not to snatch it from his outstretched hand.

---
Friends, Family, Lovers and Plenty of Solitude = Happiness!
As I walked to work today, I was greeted by friends and customers alike: 'Morning Mary', 'Hi, Mary, how's it going?' 'Hello Mary, good to see you!' Peter, an old friend who was with me, asked if I was going for election as he just couldn't get over the amount of chit chat and friendly banter that accompanied us from one end of the town to the other. I just grinned at him, knowing it was because I was born in this place, grew up and did all the usual stuff that made me what I am today, went away for a long time, came back as if the intervening years had passed in the blink of an eye, and now worked in the heart of my hometown, Dun Laoghaire. Of course, I know loads of people by name – as they know me. It's one of the things I like about the place. But even I can't imagine how irritating it must be to be really famous, when you're unable to go out without being harassed by well-intentioned fans and a dedicated postal van arrives every single day with sacks full of mail. It would grind me down me very quickly and quite possibly drive me nuts.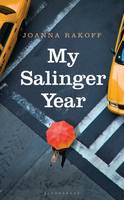 Joanna Rakoff's first job after dropping out of college was as an assistant in a New York literary agency. What a cool job! Well, the reality was that her opinion was never sought and she sat at a desk all day typing on an ancient machine. When a computer was eventually installed, she was warned, heaven forbid, never to use it, either as part of her job or for her own personal benefit. Joanna became aware of the agency's most important author, J.D. Salinger, a recluse who had to be handled only by the boss and absolutely nobody else. "HELLO! HELLO!" Salinger would shout down the phone to a terrified Joanna, asking "WHO IS THIS?" Joanna hastily put him through, afraid to make even the smallest of small talk. "Well, nice to meet you, Suzanne," said Salinger. Over time, the author eventually got her name right and started to converse a little so that, when she finally met him, Joanna had become a real person and not some nameless follower of his work.
Not long after she joined the agency, Joanna was given the shed load of correspondence that came from all over the world to the beloved author of The Catcher in the Rye and Franny and Zooey. They came from children, war veterans, movie stars and troubled teens, but she had strict instructions that no matter who wrote, or what they wrote, the answer would always be the same:
Dear Miss/Mr So-and-So:
Many thanks for your recent letter to J.D. Salinger. As you may know, Mr Salinger does not wish to receive mail from his readers. Thus, we cannot pass your kind note on to him. We thank you for your interest in Mr Salinger's books.
Best,
The Agency
Of course, Joanna couldn't resist and wrote back, giving words of encouragement, explaining her predicament, understanding theirs, signing off with her own name. The mountain, however, continued to grow until eventually, she had to stop. Perhaps she began to feel something of Salinger's dilemma: he wanted his work to sell, he micromanaged everything about his books from the cover to the typeface, but was unable to deal with the deluge of fandom, something I hope never to experience. My Salinger Year is a glimpse into the literary world where rejection letters are routinely sent out. Yet, every now and then, a new author will catapult onto the scene with great stories that will never go out of print.
3 For 2 Promotion*
*Lowest priced book free
Recommended
Promotions
Children's